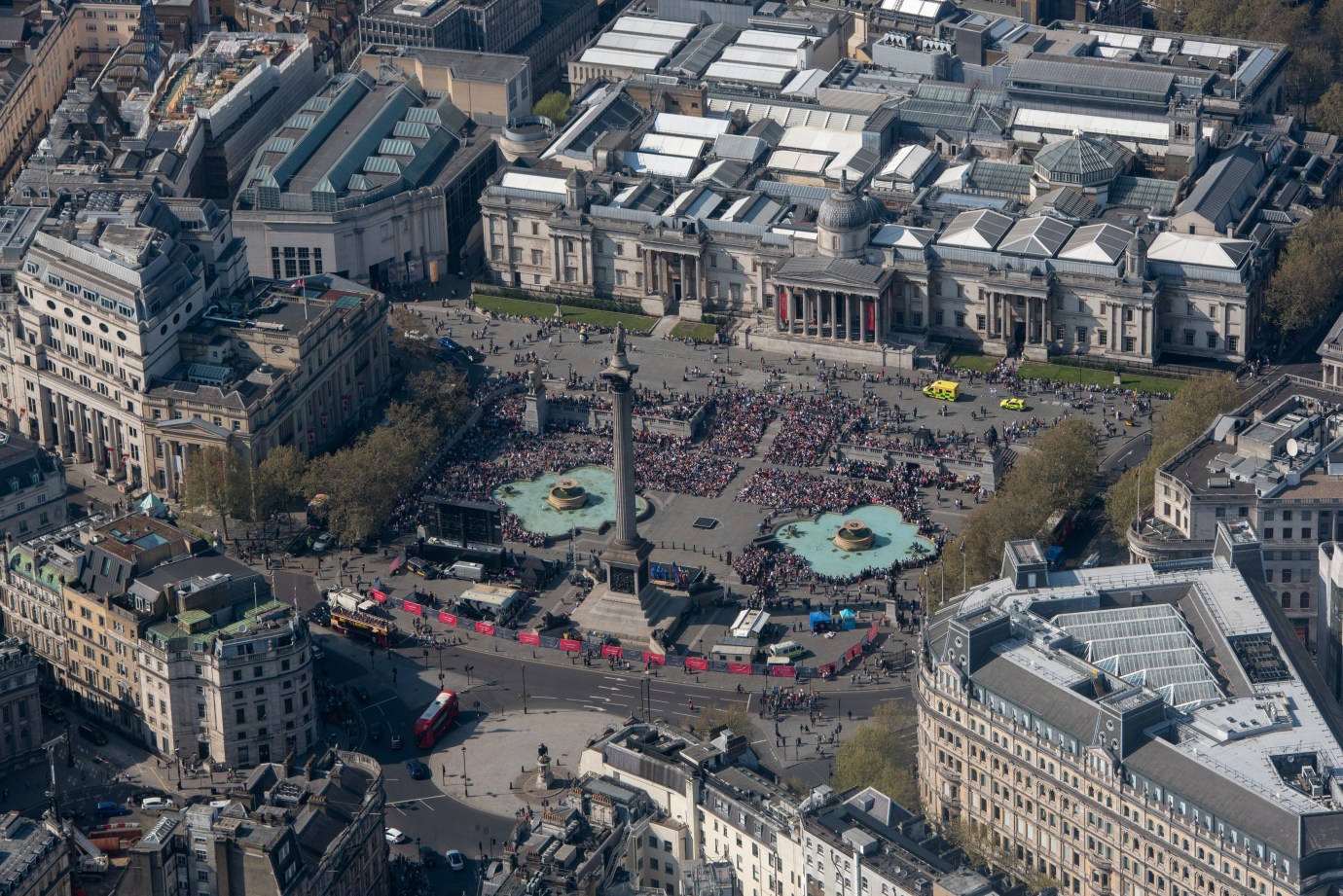 Additional Photos
The site of Trafalgar Square had been a significant landmark since the 13th century and originally contained the King's Mews. After George IV moved the mews to Buckingham Palace, the area was redeveloped by John Nash, but progress was slow after his death, and the square did not open until 1844. The 169-foot (52 m) Nelson's Column at its center is guarded by four lion statues. A number of commemorative statues and sculptures occupy the square, but the Fourth Plinth, left empty since 1840, has been host to contemporary art since 1999.
The square has been used for community gatherings and political demonstrations, including Bloody Sunday in 1887, the culmination of the first Aldermaston March, anti-war protests, and campaigns against climate change. A Christmas tree has been donated to the square by Norway since 1947 and is erected for twelve days before and after Christmas Day. The square is a center of annual celebrations on New Year's Eve. It was well known for its feral pigeons until their removal in the early 21st century.
The Sea Cadets hold a yearly Battle of Trafalgar victory parade running the north of Whitehall, from Horse Guard's Parade to Nelson's Column.
As an archetypal London location, Trafalgar Square featured in film and television productions during the Swinging London era of the late 1960s, including The Avengers, Casino Royale, Doctor Who, and The Ipcress File. It was used for filming several sketches and a cartoon backdrop in the BBC comedy series Monty Python's Flying Circus. In May 2007, the square was grassed over with 2,000 square metres of turf for two days in a campaign by London authorities to promote "green spaces" in the city.
In July 2011, due to building works in Leicester Square, the world premiere of the final film in the Harry Potter series, Harry Potter and the Deathly Hallows – Part 2, was held in Trafalgar Square, with a 0.75-mile (1.21 km) red carpet linking the squares. Fans camped in Trafalgar Square for up to three days before the premiere, despite torrential rain. It was the first film premiere ever to be held there
Property Details
Price:
Address: Trafalgar Square, Charing Cross
City: London
State: Greater London
ZIP: WC2N 5DN

MLS #:
Square Feet: 12,000m2 (130,000 sq ft)
Bedrooms: NO
Bathrooms: NO
Basement: NO

Property Map
Contact us about this location